NUTCRACKER (BLANCA LI) 2023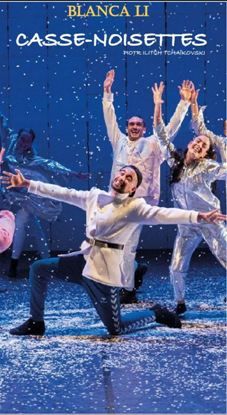 NUTCRACKER (BLANCA LI) 2023
from 2/12/2023 to 2/12/2023

18:00

Palais des Congrès d'Issy
Description

How to get there
Get tickets
Description
CASSE-NOISETTE - BLANCA LI -
FREE PLACEMENT - Running time 75mn - From 6 years old
Choreography, direction: Blanca Li
Musical direction and arrangements: Tao Gutierrez
After original music by: Pyotr Ilyich Tchaikovsky
Fundación recording of The Nutcracker
Orquesta y Coro de la Comunidad de Madrid conducted by Rubén Gimeno
Lighting Pascal Laajili - Costumes Laurent Mercier
Video Charles Carcopino - Sets and props BlancaLi, Charles Carcopino
With 8 dancers : Daniel Barros del Rio "Dany Boogz", Daniel "Sifer" Delgado Hernández, Jhonder Gómez "Bboy Mini Joe",Silvia González Recio, Graciel Stenio Lisboa Recio "Grazy", Lidya Rioboo Ballester, Elihu Vazquez Espinosa, Asia Zonta
Additional music: courtesy of Sony Music
Publishing Universal Publishing and Warner Music
Mixing and mastering Max Miglin a MG Studio
Choreographic assistant Margalida Riera Roig
Costume assistant Anna Rinzo
Lighting assistants Solange Dinand and Claire Choffel
Video assistant Simon Frezel
Assistant Video Graphic Design Jean-Baptiste Carcopino
Commissioning and Production Théâtre de Suresnes Jean Vilar
/ Suresnes Cities Dance 2022 Festival.
Delegated production Compagnie Blanca Li.
With the support of Cités danse connections and Teatros del Canal de la Comunidad de Madrid. Center chorégraphique de los Teatros del Canal, Comunidad de Madrid.
Blanca Li offers a hip hop and modern version of The Nutcracker, a marvelous tale whose music is unforgettable. Blanca Li is choreographer and jack-of-all-trades artist, director of the Teatros del Canal in Madrid. She is a regular at Suresnes cities and has been dancing since the very acclaimed Macadam Macadam in 1999. Here she offers a new creation inspired by one of the most beautiful ballets in the classical repertoire.
Blanca Li has always dreamed of reinventing the timeless and popular Nutcracker story with her own weapons: hip hop, interbreeding and a shock team. With the energy of movement and dance, she tames Tchaikovsky's musical masterpiece in a re-orchestration surprising and urban and makes it vibrate in the footsteps of eight virtuoso dancers. © Dan Aucante
"Breaks on the ground and standing styles, sometimes spiced up with voguing arm games, challenges in a circle, the acrobatic exploits radiate this insolence of overflowing life.
They also make the scenario foam. Unrestrained, the eight dancers, all high-level technicians and otherwise good actors, multiply the numbers. »
TIME: 18:00
PRICE
FREE Placement
Full price: 52€
Isseén price: 38€
Reduced price*: 32€
Price 13-25 years old: €26
Child price: 20€
* Large family - PMR - +65 years old - Job seekers
How to get there?
As part of its CSR approach , Viparis wishes to promote sustainable mobility.
On this page, you will find the public transport we recommend you use to access the Palais des Congrès d'Issy:
METRO

Line 12, Mairie d'Issy stop - exit 1

RER

Line C, Issy ville station

TRAMWAY

T2 line, Issy-Val de Seine station

BUS

Lines 123, 169, 190, 290, 323

VELO

Vélib' station on Avenue Victor Cresson
Get tickets