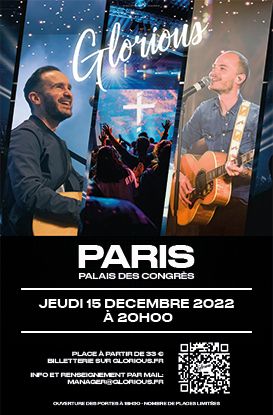 GLORIOUS 2022 CONCERT
from 12/15/2022 to 12/15/2022

Thursday, December 15 at 8:00 pm

From 33€ to 41€

Palais des Congrès de Paris
Description

How to get there
Get tickets
Description
GLORIOUS 2022 CONCERT
This year, in order to finish their Christmas tour, the band Glorious will give an exceptional concert in Paris. This one will take place at the Palais des Congrès on December 15 at 8pm. The group, who came to the Paris region last year at the same time, wish to gather all the public of the capital in one big concert.
Glorious is a French Christian group, originally from Valence, and established in Lyon. It was formed in 2002, following the World Youth Day, by two brothers: Benjamin and Thomas.
Very quickly, it meets a success with the young French Christians and arouses the curiosity of the media. Glorious is a clever mix between the Christian faith and the current music. They name their style Pop Louange.
Pop : for the musical side. Praise: for the spiritual and biblical side.
Tickets are already on sale via the website "Glorious.fr" at prices ranging from 33 to 41€ depending on the category. The group gives you an appointment on Thursday, December 15 at 20H
Comment y accéder ?
Parking Indigo Porte Maillot
2 Place de la Porte Maillot, 75017 Paris

In the context of the works at Porte Maillot, we invite you to use public transport when coming to the Palais des Congrès de Paris.
However, if you come by car, you can book your parking space at the best price with our partner OPnGO.
And find all the information about Porte Maillot on http://www.paris.fr/portemaillot
Get tickets