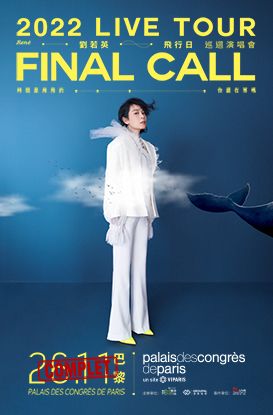 RENE LIU 2022 CONCERT
du 11/26/2022 au 11/26/2022

Saturday, November 26, 2022 at 8:00 pm

From 68€ to 268€

Palais des Congrès de Paris
Description

How to get there
Get tickets
Description
RENE LIU: FULL
For René LIU's 9th "2022 Live Tour - Final Call", René LIU takes us on a journey through a rich, touching and emotionally powerful audio-visual universe. This musical journey was originally planned to start in 2020, but due to the sudden changes in the world, everything was temporarily frozen on the spot. After two years of waiting, let's fly away and meet!"
"Final Call" is not only a grand multi-dimensional tour with sound and light animations, but also a visual and musical masterpiece that embraces the audience closely. From humming in her recording studio, to singing face-to-face to her audience on stage, Rene LIU has given herself to her fans who have missed her in recent years.
Rene LIU surrounded herself with a strong team, including her loyal partner HE Xinming (scriptwriter of "Good Story Workshop") in the creation of the story, "Grass Jelly" (who has done many stunning visual effects for the music videos of the band Mayday) to participate in the post-production of the special effects, as well as "B'in Live" (the world's best Chinese production team) for the coordination of the stage, audio, video, etc.
Rene LIU's "Live Tour 2022 - Final Call" will not just be a concert, but also a sensory feast not to be missed with popular songs, stunning acoustic aesthetics and delicate visual effects.
FARE:
VIP = €268
Category 1 = €188
Category 2 = €168
Category 3 = €128
Category 4 = €88
Category 5 = €68
How do I get there?
As part of its CSR approach, Viparis wishes to promote sustainable mobility.
You will find on this page the public transport that we recommend you use to access the Palais des Congrès de Paris:
METRO
Line 1, Porte Maillot Station - exit 3

RER
Line C, Neuilly - Porte Maillot Station

BUS
Lines 43, 73, 82, 244, PC
Get tickets