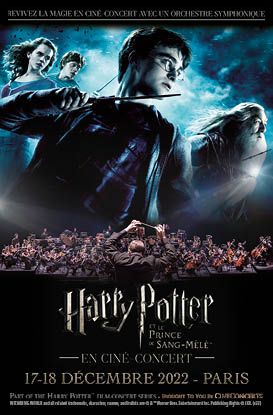 HARRY POTTER 6 2022
from 12/16/2022 to 12/18/2022

From 69€ to 149€.

Palais des Congrès de Paris
Description

How to get there
Get tickets
Description
THEN THE SIXTH PART OF THE HARRY POTTER SERIES IN CINEMA-CONCERT
WITH HARRY POTTER AND THE HALF-Blood PRINCE™ IN CONCERT
The official Harry Potter film concert series continues in Paris, at the Palais des Congrès with for the first time in France the sixth film in the series: Harry Potter and the Half-Blood Prince on December 17 and 18, 2022. The Val d'Europe Symphony Orchestra will perform the original soundtrack live on stage while the film will be projected in high definition on a screen more than 16 meters wide with its dialogue and special effects.

In this episode, as Lord Voldemort™ tightens his grip on both the Muggle and wizarding world, Dumbledore is determined to prepare Harry for the fast-approaching battle. Even as the confrontation looms, romances blossom for Harry, Ron, Hermione and their classmates. Love is in the air, but danger lurks and Hogwarts™ may never be the same.
Film shown in French Version.
TIME
Friday, December 16, 2022 at 8:00 pm.
Saturday, December 17, 2022 at 8:00 pm.
Sunday, December 18, 2022 at 2:30 pm.
FROM €69 to €149:

Golden Square: 149 euros
Category 1: 119 euros
Category 2: 89 euros
Category 3: 69 euros
How do I get there?
Parking Indigo Porte Maillot
2 Place de la Porte Maillot, 75017 Paris

In the context of the works at Porte Maillot, we invite you to use public transport when coming to the Palais des Congrès de Paris.
However, if you come by car, you can book your parking space at the best price with our partner OPnGO.
And find all the information about Porte Maillot on http://www.paris.fr/portemaillot
Get tickets