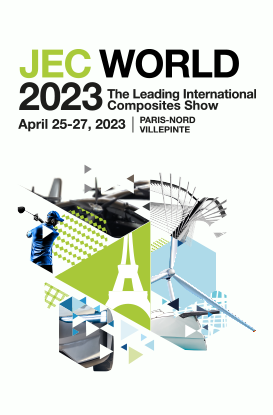 JEC WORLD
from 4/25/2023 to 4/27/2023

April 25-27, 2023 / 9am - 6pm

https://www.jecworld.events/fr/visit/badge

Paris Nord Villepinte
Description

How to get there
Get tickets
Description
JEC World brings together the entire value chain of the composites industry in Paris; it is "the place to be" for composites professionals from around the world.
The event brings together not only all the world's leading companies, but also innovative start-ups in the field of composites and advanced materials, as well as experts, academics, scientists and R&D managers from leading brands.
JEC World is also a "festival of composites," a single showcase of everything composites can bring to application sectors, from aerospace and marine to construction and automotive. On site, JEC World is experienced as an unlimited source of inspiration.
How do I get there?
The venue has a Visitor Access and an Exhibitor Access.

Visitor access
Take exit n°2 from the A104, then on arrival at the venue, choose car parks P1, P2 and P3 (your choice).

Exhibitor access
Take exit n°1 from the A104, then on arrival at the site, choose the other car parks.

Car parks
From midnight to 6am, rates are €0.80 (15 minutes) from midnight to 6am. From 7am to midnight, the rates are €20 (the day).
Get tickets