THE IMPORTANCE OF BEING CONSTANT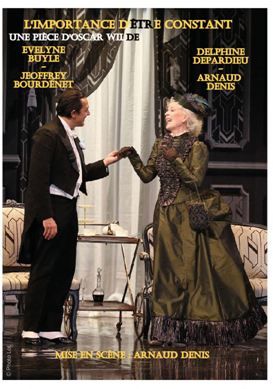 THE IMPORTANCE OF BEING CONSTANT
from 1/10/2023 to 1/10/2023

20:30

Palais des Congrès d'Issy
Description

How to get there
Get tickets
Description
The Importance of Being Consistent
NUMBERED PLAY - Running time 100mn -
A play by Oscar Wilde
Adaptation: Pierre Arcan
Direction: Arnaud Denis, assisted by Ariane Echallier With Evelyne Buyle, Olivier Sitruk, Delphine Depardieu, Arnaud Denis or Jeoffrey Bourdenet, Nicole Dubois, Marie Coutance, Olivier Lamoille, Gaston Richard, Fabrice Talon
Scenery: Jean-Michel Adam
Lighting: Cécile Trelluyer
Costumes: auline Yaoua Zurini
Music: Bernard Vallery
Two dandies from London's high society discover that they are using the same ploy to lead a double life:
they each invent a fake sick brother who serves as an alibi, in order to satisfy their libertine escapades. But love comes to pass mingle, and they will have to make a choice. Will Jack and Algernon be able to continue to lie to those around them like this? Can they prevent the truth breaks out with their respective fiancées? Not to mention that the venerable Aunt Augusta ensures that morality be respected in all things... we believe.
Essential, sparkling with elegance and humor: Oscar Wilde's masterpiece of humor. Evelyne Buyle, Delphine Depardieu, Arnaud Denis and Olivier Sitruk take us on a whirlwind of witty words, misunderstandings and adventures...
Prices
Numbered Placement
Full Price: 52€
Issean Price : 38€
Reduced price*: 32€
13-25 years old: 26€
Children's price: 20€
* Large family - PRM - +65 years old - Job seekers
How to get there?
As part of its CSR approach , Viparis wishes to promote sustainable mobility.
On this page, you will find the public transport we recommend you use to access the Palais des Congrès d'Issy:
METRO

Line 12, Mairie d'Issy stop - exit 1

RER

Line C, Issy ville station

TRAMWAY

T2 line, Issy-Val de Seine station

BUS

Lines 123, 169, 190, 290, 323

VELO

Vélib' station on Avenue Victor Cresson
Get tickets