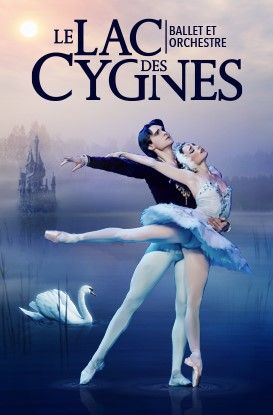 LE LAC DES CYGNES 2023
from 2/23/2023 to 4/2/2023

From 44€ to 78€
Description

How to get there
Get tickets
Description
SWAN LAKE : BALLET AND ORCHESTRA
The most performed ballet in the world, Le Lac des Cygnes is back in 2022 for a major tour in France and Europe.
This ballet immerses us in the crazy love story of Prince Siegfried and Princess Odette. The latter is unfortunately a prisoner of the famous spell of the magician Rothbart: she turns into a swan during the day and becomes a woman again at night.
Only the promise of eternal love can free her from this spell. Siegfried then promises Odette to marry him at the ball given in his honor.
Will they escape the trickery of Rothbart and his daughter Odile? Will the Prince manage to save his bride?
Created in 1875 by the Russian composer Piotr Tchaikovsky, it was in 1895 with the revival of the choreographer Marius Petipa that Le Lac des Cygnes became the greatest classical success of all time.
Between Pas de deux, romantic duets and Danse des Petits Cygnes, the dancers, accompanied by the orchestra, will elegantly interpret this masterful work.
A symbol of romantic ballet, Swan Lake captivates and continues to enchant children as adults.
PRICE
From 44€ to 78€
Golden Seat : 78€
First Category : 69€
2nd Category : 52€
Third Category : 44€
OPENING TIMES
02/23/23 at 8.00pm
02/24/23 at 8.00pm
02/25/23 at 8.30pm
02/26/23 at 4pm
03/31/23 at 8.00pm
04/01/23 at 8.30pm
04/02/23 at 4pm
GETTING THERE
Get tickets