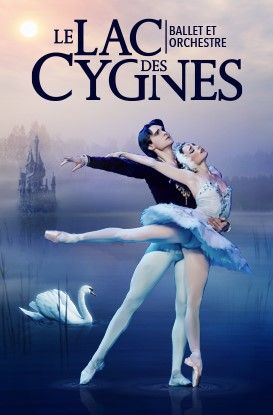 LE LAC DES CYGNES 2023
from 2/23/2023 to 4/2/2023

From 44€ to 78€.

Palais des Congrès de Paris
Description

How to get there
Get tickets
Description
SWING LAKE - BALLET AND ORCHESTRA
The world's most performed ballet, Swan Lake returns in 2022 for a major tour of France and Europe.
This ballet plunges us into the crazy love story of Prince Siegfried and Princess Odette. The latter is unfortunately trapped by the famous spell of the magician Rothbart: she turns into a swan by day and becomes a woman again at night.
Only the promise of eternal love will be able to free her from this bewitchment. Siegfried then promises Odette to marry him at the ball given in her honor.
Will they escape the tricks of Rothbart and his daughter Odile? Will the Prince manage to save his bride?
Created in 1875 by Russian composer Pyotr Tchaikovsky, it was in 1895 with choreographer Marius Petipa's revival that Swan Lake would become the greatest classical success of all time.
Between Pas de deux, romantic duets and Dance of the Little Swans, the dancers, accompanied by the orchestra, will interpret this masterful work with elegance.
As a symbol of the Romantic ballet, Swan Lake enchanted and continues to enchant children and adults alike.
FARE
From €44 to €78

Golden Square: €78
Category 1: €69
Category 2: €52
Category 3: 44€
TIMETABLE
Thursday, February 23, 2023 at 8:00 pm
Friday, February 24, 2023 at 8:00 pm
Saturday, February 25, 2023 at 8:30 pm
Sunday, February 26, 2023 at 4:00 pm

Friday, March 31, 2023 at 8:00 pm
Saturday, April 1, 2023 at 8:30 pm
Sunday, April 2, 2023 at 4:00 pm
How to get there?
Parking Indigo Porte Maillot
2 Place de la Porte Maillot, 75017 Paris

In the context of the works at Porte Maillot, we invite you to use public transport when coming to the Palais des Congrès de Paris.
However, if you come by car, you can book your parking space at the best price with our partner OPnGO.
And find all the information about Porte Maillot on http://www.paris.fr/portemaillot
Get tickets