MAVIC BRIGHT MINDET COACH 2022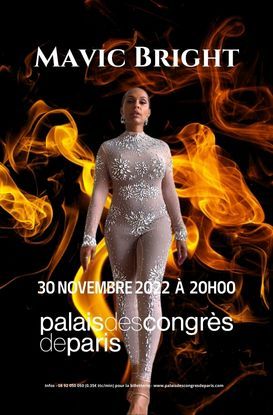 MAVIC BRIGHT MINDET COACH 2022
from 11/30/2022 to 11/30/2022

20H00

From 45€ to 55€.

Palais des Congrès de Paris
Description

How to get there
Get tickets
Description
CONFERENCE MAVIC BRIGHT
I am Mavic. I help women boost their careers and or lives. I walk alongside those who want to let go of their fear of failure, their feeling of "not being enough"... their limiting thoughts. I walk alongside those who are firmly resolved to be happy, to be fulfilled, to dare: those who are ready to move on. And since the human brain loves boxes, although they are much too narrow for me, I accept to be confined in the term of "mindset coach"
I rely on a solid intellectual background, indeed, I did a HEC prep school, a great business school (ESC Montpellier), a DU of management sciences, I am trilingual (I studied in Cordoba in Spain and in Chicago). But I don't care about theory and ready-made recipes. Everything I share, everything I show, everything I say has been put to the test of Real Life...everything is based on what I live or have lived.
In the process, I have trained, become a certified coach, hypnotherapist, sophrologist, neuroscience practitioner, aromatherapist, movement meditation guide, and breathwork which has allowed me to refine again and again this method that has helped nearly 3000 women today.
I am that business owner who went bankrupt miserably before bouncing back like the Marsupilami and is now at the head of 3 flourishing businesses. I am the shy person who teaches public speaking. I'm the wife who can't make comforter babies and who has used test tubes many times to ward off fate. I am the mom who lost her 4th baby to SIDS and continues to play the clown for the amusement of others, had a 5th and is planning to have a 6th. I am the mother of 3 children suffering from Sickle Cell Disease, a disease that manifests itself by violent attacks of pain that make them throw themselves on the floor screaming. The mom who sits with them in the morning on the hospital bed, does their hair, dresses them and perfumes them...because letting go doesn't make the pain any more bearable.
I'm the one who goes out and gets lucky.
I am a brain obsessive, I study it relentlessly I know exactly how to help you unleash your performance to reach the level of satisfaction, kiff, bliss, ecstasy you deserve. By getting my life back on track, I've created and perfected a method of progression and growth applicable to any goal: personal, professional or financial.
I love distilling inspiration and I have a blast doing it. My job is to disturb, to make people think, to push them to their limits in order to "force" them to live their full potential.
My "one woman show" : I failed everything, that's why I succeed" has already been seen by more than 6000 people. This will be the only performance on European soil.
You will laugh, cry, scream, dance but most importantly you will leave there with the desire and the tools to go out and find the 1 Million Dollar version of yourself.
We've been in virtual at the last shows. This one in person will be beyond compare. So go ahead and join us at this UNIQUE date in Paris in one of the most mythical rooms of the Capital. It will be great.
Don't wait until there is no more room to decide....
Be on time!!
3 hours of exceptional show
Parking nearby
How to get there?
Parking Indigo Porte Maillot
2 Place de la Porte Maillot, 75017 Paris

In the context of the works at Porte Maillot, we invite you to use public transport when coming to the Palais des Congrès de Paris.
However, if you come by car, you can book your parking space at the best price with our partner OPnGO.
And find all the information about Porte Maillot on http://www.paris.fr/portemaillot
Get tickets