NOE, THE STRENGTH TO LIVE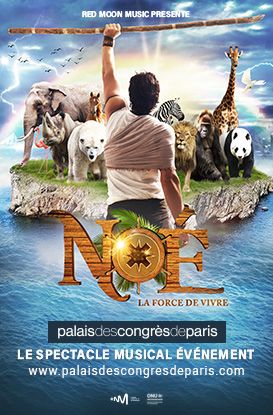 NOE, THE STRENGTH TO LIVE
from 1/21/2023 to 1/29/2023

De 39€ à 79€
Description

How to get there
Get tickets
Description
NOE - THE STRENGTH TO LIVE
After a first triumphant reception, the musical show NOÉ returns for a series of exceptional performances at the Palais des Congrès in Paris.
Embark on the ark NOÉ to live one of the greatest stories of humanity through a new show for all audiences. The story of Noah resonates today as the symbol of the protection of our planet. 34 artists on stage, action, emotion, incredible visual effects and breathtaking animals larger than life will amaze the whole family.
The show Noé sends a message of hope to raise awareness of the major issues at stake for our planet.
In partnership with UN Environment, a tree will be planted for each ticket purchased.
Show accessible from 4 years old
Artistic team:
Creator, composer and author of the libretto: Essaï Altounian
Lyrics of the songs: Léa Ivanne
Directed by: Johan Nus
Choreography: Valerie Masset
Costumes: Virginie H
Scenography: Emmanuelle Favre
Lights: Sebastien Lanoue
Video: Harold Simon
Duration: 2 hours with an intermission
PRICE
De 39€ à 79€
Golden Seats : 79€
1st Category : 65€
2nd Category : 49€
3rd Category : 39€
GETTING THERE
Get tickets