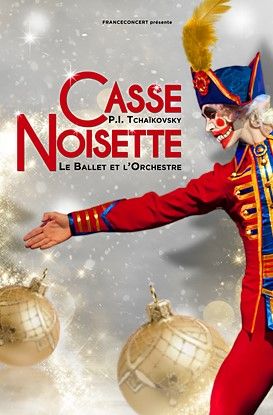 CASSE-NOISETTE DEC 2022
from 12/27/2022 to 1/7/2023

From 44€ à 78€

Palais des Congrès de Paris
Description

How to get there
Get tickets
Description
CASSE-NOISETTE DEC 2022
Come experience the magic of Christmas with the classic Nutcracker masterpiece!
This Christmas story tells the story of young Clara who receives a Nutcracker in the shape of a little man as a gift. On a night of mysterious enchantment, the toys led by the Nutcracker engage in a fierce battle against the evil mice of the house. Awakened by the noise, Clara decides to face her fears by participating in the fight and saves her beloved Nutcracker from danger. Moved by his courage and full of gratitude, he transforms into Prince Charming and takes Clara to a magical kingdom.
Ballet in two acts, The Nutcracker was presented to the public for the first time in December 1892 in Saint Petersburg at the Mariinsky Theater. The famous music of Tchaikovsky interpreted by the talented orchestra and the virtuosity of the dancers, sublimated by breathtaking sets and costumes, will thrill young and old in this fantastic world. This unforgettable score will immerse you in a magical atmosphere and make you relive your childhood dreams.
Rediscover all the beauty of this jewel of the classical repertoire, ideal during Christmas time.
PRICE
From 44€ à 78€
Golden Seat : 78€
First Category : 69€
Second Category : 52€
Third Category : 44€
OPENING TIMES
12/27/22 at 8pm
12/28/22 at 8pm
12/29/22 at 8pm
12/30/22 at 8pm

12/31/22 at 4pm

01/03/23 at 8pm
01/04/23 at 8pm
01/05/23 at 8pm
01/06/23 at 8pm
01/07/23 at 8.30pm
GETTING THERE
Parking Indigo Porte Maillot
2 Place de la Porte Maillot, 75017 Paris

In the context of the works at Porte Maillot, we invite you to use public transport when coming to the Palais des Congrès de Paris.
However, if you come by car, you can book your parking space at the best price with our partner OPnGO.
And find all the information about Porte Maillot on http://www.paris.fr/portemaillot
Get tickets