ONE MORE TIME - HOMMAGE ELECTRO-SYMPHONIC À DAFT PUNK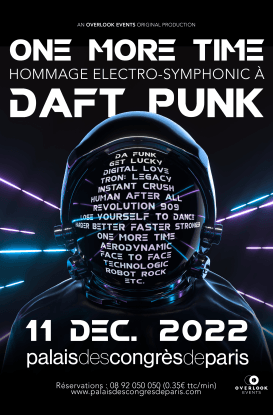 ONE MORE TIME - HOMMAGE ELECTRO-SYMPHONIC À DAFT PUNK
from 12/11/2022 to 12/11/2022

at 2.30pm

From 34.90€ to 99.90€

Palais des Congrès de Paris
Description

How to get there
Get tickets
Description
ONE MORE TIME
ELECTRO-SYMPHONIC TRIBUTE TO DAFT PUNK
Paper program offered to all spectators
One More Time is the unique electro-symphonic experience dedicated to one of the most legendary French groups of its time, with more than 50 musicians on stage for an extraordinary sound and light show!
With its experience in creating great symphonic concerts, Overlook Events uses its love for the stage and music to create the best possible tribute to Daft Punk, in the sublime hall of the Palais des Congrès de Paris.
The concert offers an unprecedented visual and auditory experience: with its live play of lights and the symphony orchestra in electronic hybridization, the concert will be an opportunity to enjoy Daft Punk's best tracks live, from their solo albums and from the movie Tron: Legacy.
HUMAN AFTER ALL – TRON: LEGACY – DA FUNK – GET LUCKY – DIGITAL LOVE – INSTANT CRUSH – AERODYNAMIC – REVOLUTION 909 – TECHNOLOGIC – LOSE YOURSELF TO DANCE – ROBOT ROCK – BURNIN' – HARDER, BETTER, FASTER, STRONGER – FACE TO FACE – ONE MORE TIME – AND MANY MORE…

One More Time is two hours of exceptional show for the first time in Europe, by a team specialized in musical and artistic creation, driven by a passion for the fusion between image and music.
Overlook Events is the creative output of the symphonic world tours of Assassin's Creed, John Williams, TV Series Live and the famous "symphonic rock" concerts Dragon Ball and Saint Seiya, as well as concerts by artists such as Danny Elfman (Tim Burton), Joe Hisaishi (Ghibli) or Nobuo Uematsu (Final Fantasy).
This concert is an independent tribute, without any participation of artists associated with Daft Punk and without the use of images from the clips or films.
PRICE
From 34.90€ to 99.90€

Golden Seats : 99.90€
OPENING TIMES
12/11/22 at 2.30pm
1st Category : 84.90€1st
2nd Category: 64.90€
3rd Category : 49.90€
4th Category : 34.90€
GETTING THERE
Parking Indigo Porte Maillot
2 Place de la Porte Maillot, 75017 Paris

In the context of the works at Porte Maillot, we invite you to use public transport when coming to the Palais des Congrès de Paris.
However, if you come by car, you can book your parking space at the best price with our partner OPnGO.
And find all the information about Porte Maillot on http://www.paris.fr/portemaillot
Get tickets