OPERA NATIONAL D'ARMENIE - MASCARADE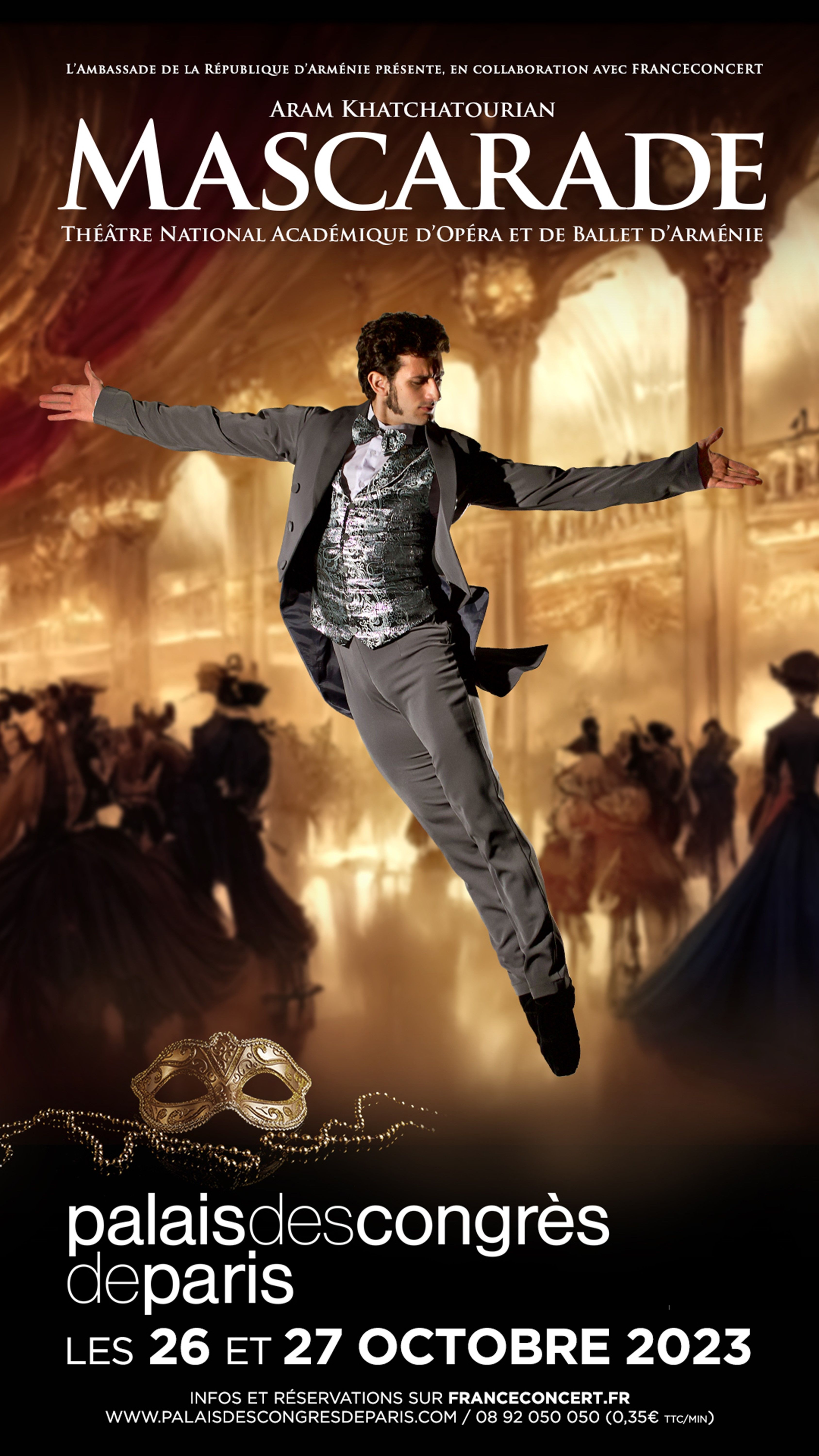 OPERA NATIONAL D'ARMENIE - MASCARADE
from 10/26/2023 to 10/27/2023

20:00

From 42 to 75€

Palais des Congrès de Paris
Description

How to get there
Get tickets
Description
BALLET AND ORCHESTRA - National Academic Opera and Ballet Theatre of Armenia
As a tribute to the composer Aram Khachatourian and his contribution to Armenian culture, the National Opera and Ballet of Armenia bring a ballet rich in emotion to the forefront of the French stage.
In 1941, Aram Khachatourian composed Masquerade for the eponymous play by the Russian poet and playwright Mikhaïl Lermontov. The music has remained memorable over the decades thanks to its five-movement suite. The premiere was on June 21st, 1941, at the Vakhtangov Theatre in Moscow.
Masquerade is a tragic play that unites love, deception, and mystery. During a great masked ball, the fates of various characters meet and, following an unfortunate misinterpretation, are launched into a dramatic conclusion.
The Opera Theatre is the pride of the Armenian nation, located in the heart of the capital: Yerevan. It is the center of creation for Armenia's most famous operas and ballets. The curtains of this theater were first drawn on January 20th, 1933. For more than 90 years, it has remained the glory of the national musical scene, allowing the whole world to discover Armenian dramatic arts.
Comment y accéder ?
As part of its CSR approach, Viparis wishes to promote sustainable mobility.
You will find on this page the public transport that we recommend you use to access the Palais des Congrès de Paris:
METRO
Line 1, Porte Maillot Station - exit 3

RER
Line C, Neuilly - Porte Maillot Station

BUS
Lines 43, 73, 82, 244, PC
Get tickets