SALON DE LA PLONGEE SOUS-MARINE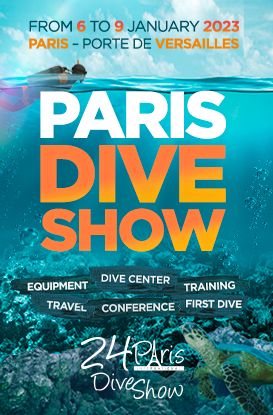 SALON DE LA PLONGEE SOUS-MARINE
from 1/6/2023 to 1/9/2023

From Friday, January 6 to Monday, January 9, 2023 Friday, January 6 from 10am to 9pm Saturday 7 & Sunday 8 January from 10am to 7pm Monday, January 9 from 10am to 3pm

1-day ticket : 14.00€

Paris Expo Porte de Versailles
Description

How to get there
Description

How to get there
Description
A 23rd edition under the sign of responsible diving
The Paris International Dive Show is THE event of the year for all diving professionals and lovers.
More than a trade show, it's an immense event putting diving at its very center with photo exhibitions, conferences, and a heated swimming pool in which visitors can discover apnea with a champion or try out scuba equipment with dedicated instructors.
Seas and oceans are the center of every attention, as they are an important part of our Earth balance. The underwater world is full of promises and all are irrepressibly drawn to it. And there is no better place to immerse oneself into it than the Paris Dive Show.
This is reflected in the programme for the next edition, which will focus on the protection of the oceans, including the first Symposium on Responsible Diving.
From the youngest beginner to the most seasoned diver, let's all meet at the Paris Dive Show for 4 incredible days of celebrating the underwater world.
1-day ticket : 14.00€
2-days ticket : 25.00€
4-days ticket : 30.00€
Entrance only on Monday 9 January : 10.00€
Group rate (from 10 people) : 12.50€
Free entry for children under 8 years
How to get there?
Parking 1
2 rue d'Oradour-sur-Glane, 75015 Paris

Parking 6
Access Place des Insurgés de Varsovie, 75015 Paris / VIP access Avenue de la Porte de la Plaine, 75015 Paris

Parking 7
Rue Marcel Yol, 92170 Vanves