International Paris Air Show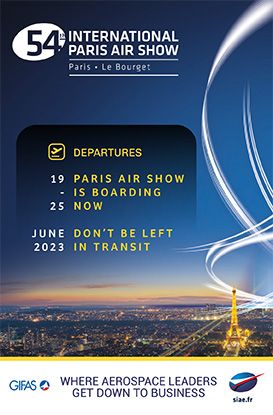 International Paris Air Show
from 6/19/2023 to 6/25/2023

from 8:30 am to 6:00 pm.

see in description

Paris Le Bourget
Description

How to get there
Get tickets
Description
Established in 1909, the International Paris Air Show is the most important show in the world for the aerospace industry. At the last show in 2019, over 2,500 companies exhibited and almost 300 top level Official Delegations and some 140,000 Trade Visitors came from the world over. In France, the show is a real driver for this sector and a major catalyst for much international collaboration. As such it is the place where the sector's decision makers choose to meet and gather as they come here to exhibit, sell and buy all the latest innovations. Since the Show is so massively popular with the worldwide aerospace community and the General Public, it offers unrivalled opportunities for conducting business, and for being seen and known. An absolute key event for the whole profession, the International Paris Air Show is organised by SIAE, a subsidiary of GIFAS, the French Aerospace Industries Association.
For further information: www.siae.fr
Planning :
Trade days : from Monday 19 to Thursday 22 June 2023,

General Public days : from Friday 23 to Sunday 25 June 2023,

The Show is open from Monday, June 19 to Sunday, June 25, 2023 from 8:30 am to 6:00 pm,
Price :
Professional Visitor Badge Rates (https://siaepro.mybadgeonline.com/Pro-en-US) :
There are 3 types of Professional badges, valid for one, two or seven days.
1 day, ordered online: €55 incl.VAT | 1 day, buy on site: €65 incl.VAT,

2 days, ordered online: €108 incl.VAT,

7 days, ordered online: €200 incl.VAT,
General Public ticket prices (https://tickets-siae.fr/en/) :
The General Public ticket is valid for only 1 day from Friday to Sunday from 8.30 a.m. to 6.00 p.m. There is no rate for several days of visit during the General Public days. To attend seated, the flight demonstrations on the afternoons of the General Public days, the visitor need to buy an Entrance + a Grandstand ticket.
Entrance ticket to the Show : €17.00

Grandstand ticket : €12.00
How to get there?
As part of its CSR approach, Viparis encourages sustainable mobility.
The following public transport services serve Paris Le Bourget:


RER
line B, "Le Bourget" station. Ile-de-France" ticket required (T+ ticket not valid)
Get tickets