THE FOUR SEASONS - VIVALDI_THE ROME OPERA BALLET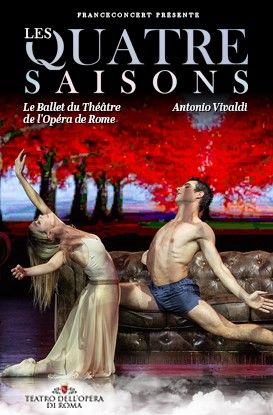 THE FOUR SEASONS - VIVALDI_THE ROME OPERA BALLET
from 1/13/2023 to 1/15/2023

From 48€ to 88€

Palais des Congrès de Paris
Description

How to get there
Get tickets
Description
THE 4 SEASONS - VIVALDI PLEASE NOTE THE EVENT IS POSTPONED TO JANUARY 2023. TICKETS REMAIN VALID.
ROME OPERA BALLET
FRANCECONCERT presents the ballet Les 4 Saisons - Vivaldi, with the prestigious Rome Opera Ballet.
Music by Antonio Vivaldi.
Direction and Choreography: Giuliano Peparini
Soloists and Corps de Ballet of the Teatro dell'Opera di Roma under the artistic direction of Eleonora Abbagnato.
PRICE
From 48€ to 88€
Golden Seats : 88€
1st Category : 76€
2nd Category : 59€
3rd Category : 48€
OPENING TIMES
06/03/22 at 8pm postponed to 01/13/2023 at 8pm
06/04/22 at 3pm postponed to 01/14/2023 at 3pm
06/04/22 at 8pm postponed to 01/14/2023 at 8pm
06/05/22 at 4pm postponed to 01/15/2023 at 4pm
GETTING THERE
Parking Indigo Porte Maillot
2 Place de la Porte Maillot, 75017 Paris

In the context of the works at Porte Maillot, we invite you to use public transport when coming to the Palais des Congrès de Paris.
However, if you come by car, you can book your parking space at the best price with our partner OPnGO.
And find all the information about Porte Maillot on http://www.paris.fr/portemaillot
Get tickets