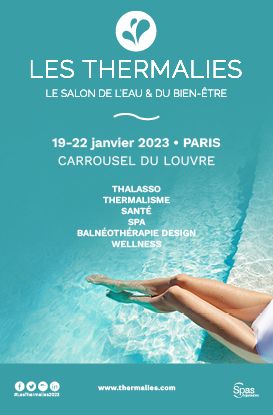 THERMALIES
from 1/19/2023 to 1/22/2023

Thursday, Friday, Saturday: 10:00 am to 6:30 pm Friday and Saturday - Sunday 10:00 am to 6:00 pm

▪ Free admission to the exhibition website (giving access to the stands, conferences and conference workshops) ▪ Free for people under 25, unemployed, RSA beneficiaries, students and disabled people

Les Salles du Carrousel
Description

How to get there
Get tickets
Description
The Les Thermalies from January 19 to 22, 2023 in Paris, at the Carrousel du Louvre, a privileged meeting to discover the health benefits of water, the most beautiful destinations in France and abroad, and the latest trends in well-being.
Come meet and exchange with 285 professionals of health and well-being through water spread over 7 thematic pavilions :
- Thalassotherapy France
- Sources Thermales France
- Destination d'ailleurs
- Spa Escape
- Design Balneotherapy
- Anti-aging/care
- Health services
4 days to :
Choose and organize your cures and stays adapted to your health issues or towards wellness offers designed to take care of you.

Benefit from promotional offers by booking your cures and stays on the show.
New in 2023:
- Thermalies Thursdays : Once a month, on Thermalies.com, strong and current topics will be addressed by experts. A moment of discovery and well-being to keep in touch with Thermalies all year long.
- European zone : full spotlight on European destinations, highly requested by visitors.
- Relaxation Zone : a rest area available for sponsorship to allow visitors to discover your establishments, your care or even your region via different sources of information such as virtual reality, flyers, brochures...
- Tourism Zone : vacation villages, senior stays, tourist activities outside of care: propose your offers to our visitors.
And a whole program of conferences on major health topics, practical workshops to discover various body practices (yoga, meditations, pilates...)
How do I get there?
The "Parc Carrousel Louvre" is accessible from Avenue du Général Lemonnier, 75001 Paris
From the rue de Rivoli: turn left at the traffic lights at the Place des Pyramides

From the Quai des Tuileries: turn left at the Pont-Royal traffic lights

From the Pont-Royal: straight on, direction "Opéra", then turn right
In all three cases: go into the tunnel; at the traffic light at the lowest point of the tunnel, take the central ramp marked "Parc Carrousel Louvre".


PARKING INFO
Parking Q-Park
Avenue du Général Lemonnier
75001 Paris
Get tickets