Eternelle Notre Dame at Espace Grande Arche
Eternelle Notre Dame at Espace Grande Arche
Viparis is hosting a large-scale cultural project based on the History of France on the Espace Grande Arche site in La Défense, as part of a long-term partnership with Amaclio.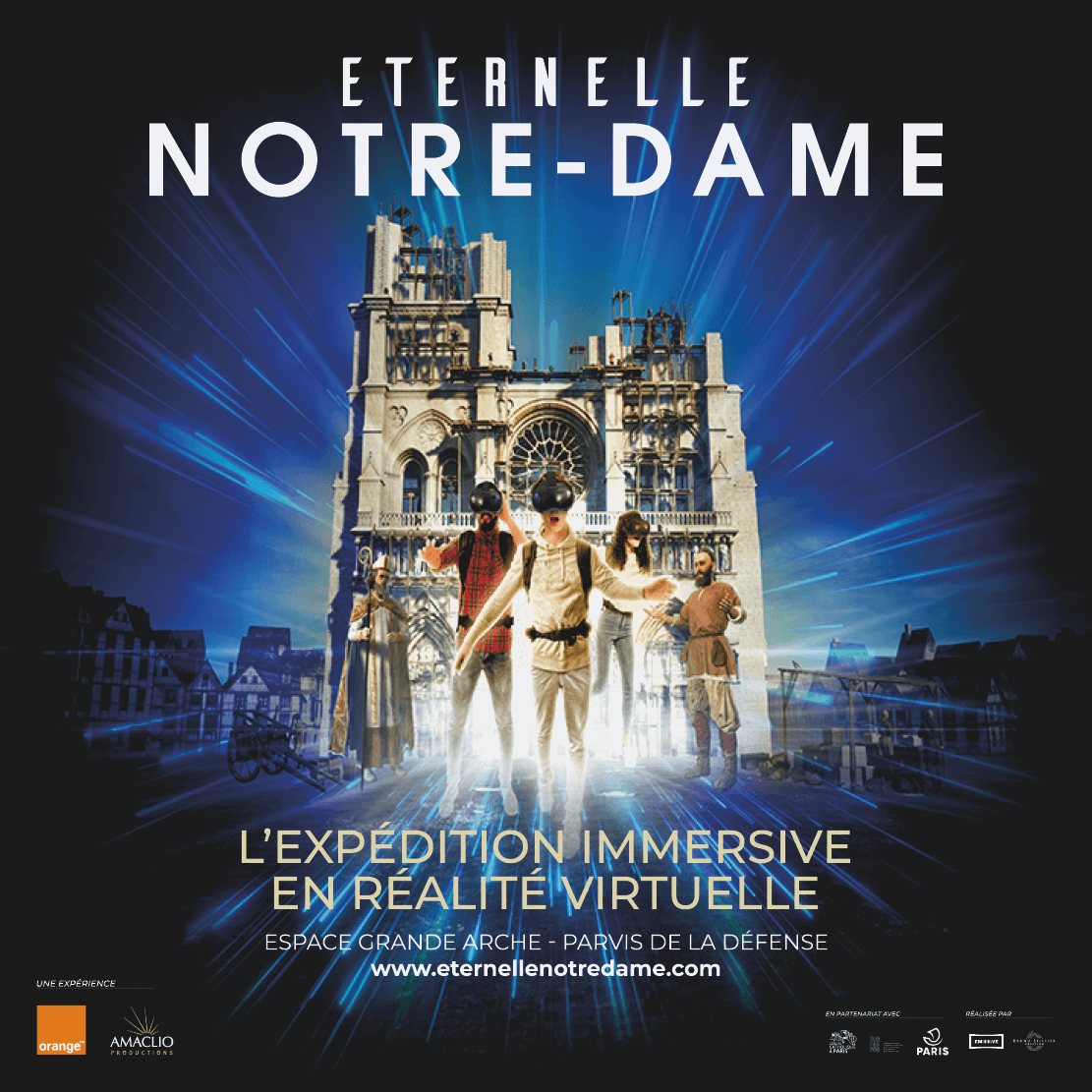 Espace Grande Arche, located at the foot of the Grande Arche in La Défense, will host the Amaclio company for the installation of large-scale cultural projects designed to enhance French history. It is from January 15 that the first part of this partnership will come to life : an immersive experience in virtual reality around the history of the Notre-Dame de Paris cathedral : "Eternal Notre Dame".
A creative, production and event company specializing in the enhancement of heritage, Amaclio carries out major cultural projects such as the Night at the Invalides (Paris) or Les Chroniques du Mont (Mont-Saint-Michel). Its new project, "Eternal Notre Dame", plans to plunge the spectator into the heart of the history of Notre-Dame de Paris. Equipped with a virtual reality headset and guided by a virtual builder companion, the visitor will travel through time to discover the cathedral from the 12th century to the present day.
Viparis and Amaclio are very pleased to host this innovative and immersive experience at Espace Grande Arche. Find all the information on the dedicated website : https://eternellenotredame.com/. " Eternelle Notre Dame " is the first stone of the partnership between Viparis and Amaclio, which is intended to continue for several years.
As part of this partnership, Viparis is pleased to be able to offer its clients a unique historical and cultural experience at Espace Grande Arche by continuing to market its spaces for original and innovative corporate events while Amaclio will be the sole operator responsible for marketing to the general public.
Pablo Nakhlé Cerruti, CEO of Viparis : " I am very proud of this partnership with Amaclio, which offers a new dimension to our Espace Grande Arche site. This project is part of Viparis' transformation strategy, guided by a major ambition : to transform our sites, to innovate for our customers by offering them unique experiences"
François Nicolas, President of Amaclio Productions
"The Espace grande Arche at La Défense will become for the coming years, in partnership with Viparis, a new venue for Amaclio Productions that will be a reference in the cultural and event world open every day to the general public. Focused on the discovery of history and heritage thanks to the latest technological innovations, we are very proud to share this new adventure with Viparis and all of its teams whose professionalism is no longer to be demonstrated ".