Jam Capsule - An immersive cultural experience. Opening on December 14, 2022
Arts, culture, performances and music
11.2.2022
Jam Capsule - An immersive cultural experience. Opening on December 14, 2022
Do you dream of traveling through the most beautiful Japanese landscapes? To dive into the heart of a painting? To explore the most beautiful images of the Earth? And to know everything about the incredible story of the greatest voice of the 20th century?
Enter now the JAM CAPSULE for a unique sound and visual experience in Europe through a series of thematic works broadcasted at 360º. Already more than 50,000 participants conquered by the event.
A new program with 4 immersive capsules, 2 of which are brand new!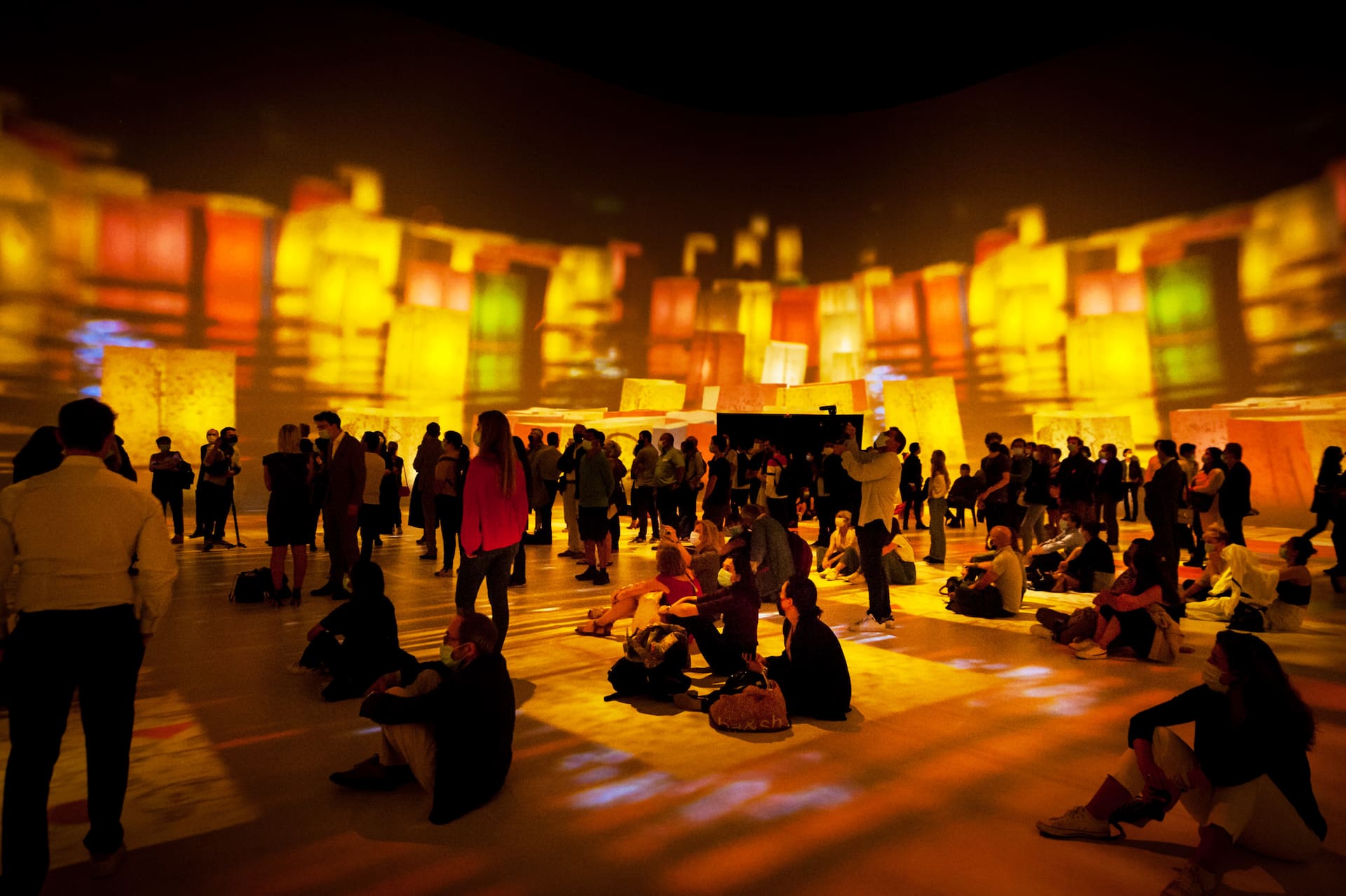 This project is the result of a partnership between Viparis, Atelier JAM and Fever.
A first multiprogramming of four immersive cultural experiences designed by Yann Arthus-Bertrand / Hope production, Tom Volf, Pierre Goismier / GEDEON Programmes will be offered to the public.
JAM CAPSULE is a monumental visual and sound device developed in 360°equipped with the latest technologies.
This "cathedral of images and sounds" is also a blank canvas offered to artists, authors, directors or scientists wishing to design immersive exhibitions.
It is also a novel educational and cultural mediation tool offered especially to schools. It is finally a tool for experimentation to develop new scenographic technologies.
The ambition of the designers of the JAM CAPSULE is to welcome any original, daring and high quality creative initiative whatever the theme.
JAM CAPSULE is the unusual project of the JAM Workshop, a scenography workshop dedicated to production and scenography applied to the artistic and cultural sector. An oblong canvas building, this astonishing cell houses within it one of the most important immersive cultural devices in Europe.
Open to all audiences to understand and learn, JAM CAPSULE invites everyone to immerse themselves in an unprecedented visual and sonic artistic experience. With 1000 m² of video-projection surface combined with a spatialized sound system, the images scroll and marry each corner of this atypical space.
Thanks to the most advanced technologies in terms of immersive experience, the visitors can travel through several works, called " capsules " Atelier JAM put this technological device in the hands of the artists: each, in their own way, took hold of this tool and had the possibility to reinforce or not the immersive aspect of their creation.
From the opening of the JAM CAPSULE, four original works offered in the form of capsules apprehend the different forms of art, from painting to the 7th art, through music, dance, cinema or the environment.
Yann Arthus-Bertrand unveils, to the music of Armand Amar, a true ode to the Earth in his work "Legacy,the courage of truth"(Hope Production). Pierre Goismier invites the public to discover the wonders of the land of the Rising Sun, in "Japan, another look", produced by GEDEON Programmes. Finally, Tom Volf directed two vignettes, one dedicated to Flemish painting, "Mystic Gardens, a walk through the masterpieces of the Flemish painters", the other in tribute to Maria Callas, "Maria by Callas, the experience".
A multilingual chatbot enriches all of the content, offering the public certain keys to understanding the works.
Hosting JAM CAPSULE at Paris Expo Porte de Versailles is part of Viparis' strategy to transform this site into a destination in its own right and to offer unique experiences. Paris Expo Porte de Versailles enjoys an international reputation and welcomes more than 7.5 million visitors and 200 events every year. From public and trade shows to corporate conventions and congresses, as well as dinners, cocktail parties and other atypical events, Paris Expo Porte de Versailles is the place to be for the biggest events in the heart of Paris.
Today, the park is reinventing itself and continuing to open up to Parisians, visitors to the Exhibition Park and travelers passing through. To the service offer already present: the Novotel and Mama Shelter Paris West hotels, and their restaurants and rooftop lifestyle, but also the Perchoir, a bar and restaurant with a unique concept, nestled on the panoramic terrace of Pavilion 6 is now added an extraordinary cultural experience that will echo the artistic gestures already present on the site and in particular the awning of Pavilion 6 imagined by Jean Nouvel.
JAM CAPSULE thus finds at Viparis the possibility of producing singular audiovisual projects of quality and diversity while benefiting from the aura of an emblematic place.
This new space opens up a wide field of possibilities for JAM CAPSULE, allowing it to blend emotion and technology. A player in technological, cultural and artistic innovation, Atelier JAM is destined to conquer new audiences and allow Viparis to continue inventing the event industry of tomorrow.
This experience is launched in partnership with the Fever platform, the world's leading event and leisure discovery platform, which helps millions of people discover the best experiences in their city. This partnership is fully in line with Fever's core mission: to democratize access to culture and entertainment by enabling its users to enjoy unique local experiences.
Philippe Ligot, president of Atelier JAM, designer and producer of JAM CAPSULE
"We imagined a concept that would allow each visitor to physically move through the works. Our premise was to use the most advanced technologies to create a technically exceptional scenography, but without taking the easy way out on the quality and the requirement of the contents that would be presented. That each visitor discovers matter to be amazed, but above all "matter to think".
It is also a space of freedom made available to authors of all disciplines who can be artists, scientists, or even historians, the basic principle being to produce a singular and high quality work especially in its writing in order to offer a sensory and intellectual experience unseen by the public.
JAM CAPSULE can be very easily deployed in other places in the provinces or abroad. Thus, we hope to convince some large French cities to host JAM CAPSULE as a cultural tool of course, but also an educational tool especially in the context of cooperation with local elected officials and national education. "
Marc Cohen, general manager Fever France
"The launch of this experience in partnership with Atelier JAM is an opportunity for Fever to put all its expertise at the service of a partner with extraordinary potential. It is also another opportunity to affirm its core mission: to democratize access to culture and entertainment by offering our users new and innovative experiences."