An optimised logistics flow
Espace Champerret has redeveloped the former petrol station into a logistics zone and fresh goods market.
The objectives are:
Optimise on-site logistics by reducing Espace Champerret traffic and noise pollution

Promote urban agriculture and short food circuits by creating a multimodal fresh goods market.



By separating the Espace Champerret traffic from public areas, the new logistics zone makes it possible to optimise the site's logistics performance and improve the environment for local residents.
By dissociating the flows generated by Espace Champerret's activity from the public space, the new logistics zone optimizes the site's logistics performance while improving the comfort of local residents.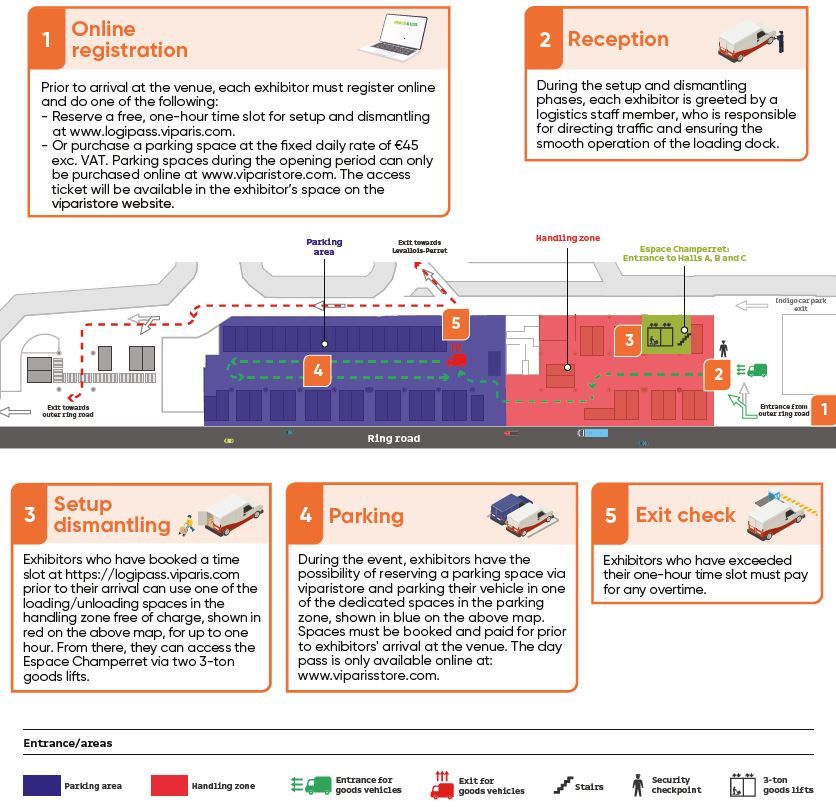 Benefits of the new logistics zone
Parking
During events, as well as during set-up and breakdown, commercial vehicles with a maximum height of 2.35m and maximum length of 5.20m will be able to park securely in the logistics zone.
Time
The logistics zone is directly accessible from the ring road, which saves time as vehicles can avoid entering Levallois.
Direct access to the halls
Espace Champerret halls are directly accessible by a handling area with stairs and 2 goods lifts with a capacity of 3 tonnes each. These can be freely used on the basis of the information and hours specified by the organiser.
Improved set-up and breakdown
Exhibitors will be able to organise their set-up and breakdown in advance thanks to the logipass online registration platform. Through the platform, exhibitors can reserve a one-hour slot, which avoids overcrowding in the logistics zone.