A new Lifestyle hotel at Paris Expo Porte de Versailles
A new Lifestyle hotel at Paris Expo Porte de Versailles
Viparis is strengthening the appeal of Paris Expo Porte de Versailles by expanding its hotel offering. Viparis has chosen Eklo as its partner to offer a hybrid and atypical hotel experience to a wide range of business and leisure customers. When it opens in 2023, Eklo's first Paris hotel, featuring 304 rooms, a restaurant and a panoramic rooftop, will offer an eco-friendly, economical and convivial hotel solution to visitors to Paris Expo Porte de Versailles.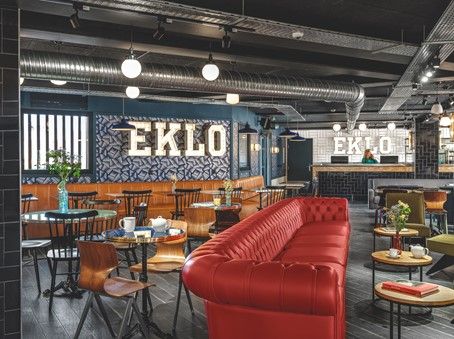 Paris Expo Porte de Versailles enjoys an international reputation and hosts more than 7.5 million visitors and 200 events every year. From consumer and trade shows to corporate conventions and congresses, as well as dinners, cocktail parties and other atypical events, Paris Expo Porte de Versailles is the place to be for the biggest events in the heart of Paris.
To complete its offer, Paris Expo Porte de Versailles is launching the construction of a 304-room hotel as of April 2022, which will provide an " economical " offer and thus enrich the already existing service offer Novotel and Mama Shelter Paris West, and their restaurants and rooftop lifestyle, but also the Perchoir, a bar and restaurant with a unique concept, nestled on the panoramic terrace of Pavilion 6.
In keeping with Viparis' environmental commitments, the future complex will meet high environmental performance standards. In particular, it will be certified NF HQE Bâtiments Tertiaires, at the excellent level, and BREEAM International New Construction 2016, at the very good level.
Paris Expo Porte de Versailles, a destination in its own right, is reinventing itself and continuing to open up to the people of Paris, visitors to the Exhibition Center as well as passing travelers. This project accentuates the urban insertion of the park in its environment and strengthens the connection between the city and the park, a true urban seam intended by Viparis to integrate the exhibition site into the heart of Paris.
Consistent with its desire to make Paris Expo Porte de Versailles the benchmark park of the 21st century, Viparis has called on renowned architects for this project. The Valode & Pistre agency, which was already responsible for the park's master plan, has been chosen to design the hotel. It has already distinguished itself in major projects such as the University of Toulouse Jean Jaurès, the Saint-Gobain tower in La Défense or the Clarins headquarters in Neuilly-sur-Seine.
Viparis has chosen Eklo to operate the hotel, a recognized and quality partner, which will develop its innovative concept of ecological, economical and friendly hotels to be a place of urban life. Far from stereotypical rooms and common spaces lacking soul, Eklo offers another way to travel by focusing on a warm and contemporary design to live an authentic experience.
This new hotel concept is committed to and implements strong eco-responsible initiatives regarding the fight against waste in water, energy or food, or the sorting and recovery of waste. Thus, the hotel will be equipped with water flow reducer, energy saver, cooking will be made on site, with local products, and avoiding waste through a collaboration with the start-up Too Good To Go.
Eklo will offer in this hotel a hybrid and diversified accommodation : solo, duo, classic, family or dormitory room, to meet a wide range of tourism and business customers.
A rooftop with a panoramic view of Paris as well as a bar, a restaurant, meeting rooms and a shared kitchen will complete the Eklo offer to make it a lifestyle and design address, accessible to all budgets.
Eklo currently operates seven hotels in Bordeaux, Clermont-Ferrand, Le Mans, Le Havre, Lille, Marne-La-Vallée, Toulouse starting in June and continues to create new green and trendy addresses with the opening of Lyon and Roissy in late 2022.
Work will begin as early as April 2022 for a public opening in late 2023.
Pablo Nakhlé Cerruti, CEO of Viparis
" This new hotel offer embodied by Eklo is in line with the strategy of Viparis diversity of the ranges offered at Porte de Versailles while offering a new Lifestyle experience. We are proud to welcome the first Eklo in Paris."
Emmanuel Petit, President-Founder of EKLO
"I am delighted and proud that Eklo will be setting up shop on this beautiful site at the Parc des Expositions Porte de Versailles, which has been totally modernized and redesigned. This future establishment, a true flagship for Eklo, will be a new lifestyle address, open to all, design and friendly, to come and have a drink, eat, work and sleep, at very attractive prices" says Emmanuel Petit, President-Founder of Eklo.